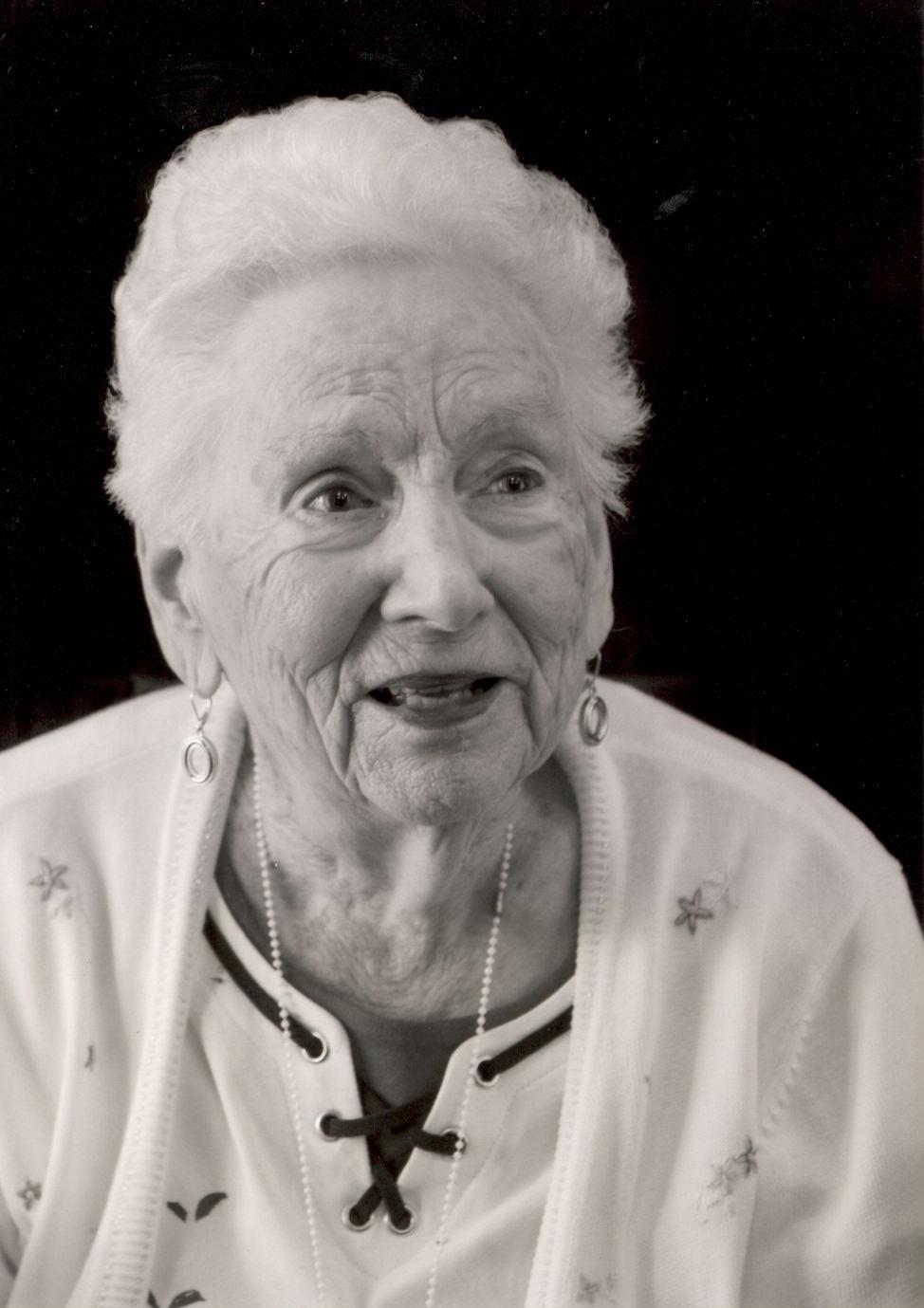 Mrs. Helen Newell Boswell
Obituary:
"Weeping may remain for the night, but joy comes in the morning." Psalm 30:5 Those who remain may weep in loss, but Helen Boswell's morning of joy with Jesus began on Sunday, March 21, 2021, six days after her 103rd birthday. Helen was the third of five children born to Carl Stuart Newell And Helen Cheek Newell of Palmer Springs, Virginia: Jamie, Billy, Helen, Allie, and Carl Stuart. She is survived by her children, Betty Sloat (Gordon), Royall Boswell, and Camilla Prewitt (Paul); grandchildren, David Sloat (Margaret), Sarah Ericson (Dave), Stephen Sloat, Cullen Prewitt (Amy), and Jeremy Prewitt (Jamee); and great grandchildren, Andrew Ericson, Ethan Ericson, Timmy Ericson, Lauren Mae Sloat, and James Sloat. The Christian faith was modeled by her parents and nurtured in Union Chapel Methodist Church in Palmer Springs, VA. This faith sustained Helen through many losses, surrounded her with God's love, and filled her life wth a servant's heart. From generation to generation her family is keeping the faith. Helen was a devoted wife, daughter-in-law, and mother. She married Lewis Royall Boswell in 1942 moving into the homeplace with "Mother Boswell" on the family farm of tobacco and other crops that Lewis inherited. She embraced her husband's large family of eight siblings and hosted them and their families on their visits home. She harvested the garden, canned, froze and preserved most of the family's food. There were always eggs to gather and chickens to feed, hams in the smoke house. Even with all the other household duties, she made time to read to her children. "Mother Boswell" lived with them until her death in 1959 and Helen cared for her during her declining years. The tragedies of Royall's brain damaging encephalitis and Lewis's sudden death after a heart attack (1968) changed her life drastically. She sold the farm and moved into a new home in South Hill, widowed at age 50. She had to learn to be in charge of her finances, home ownership, and Royall's care. Soon, after her father's death, Helen's mother came to live with her for about six years until her death. In most of her forty two years in South Hill, Helen continued a life of loving service. She was a real prayer warrior and had disciplined daily Bible study. She was active in worship and service at South Hill United Methodist Church. She visited "shut in" members, volunteered for the hospital auxiliary, Meals on Wheels, visited and read to patients in the Annex, and took casseroles to sick friends and neighbors. She was a tireless advocate for Royall. After his years at Zuni Presbyterian school, she volunteered with MARC (Mecklenburg Agency for Retarded Citizens). When Ashley Manor group home was built, Royall stayed there during the week, but came home every weekend. It seemed as if Helen lived by Mother Theresa's pattern, "We can do no great things, only small things with great love". When her macular degeneration made it difficult for her to live alone, she reluctantly, but gratefully moved to live with Camilla and Paul in Fredericksburg for the next 51/2 years. She attended Fredericksburg United Methodist church with them making many friends in her Sunday school class and elsewhere. She enjoyed continued participation in the Methodist Women's reading program as Camilla read the books (and many others as well) to her. She listened to countless other books through the library's recorded services for the blind. She used her exercise bike and continued the discipline of her exercise routine. She wanted to help set the table and do everything for herself that she possibly could. She asked for her prayer list to be copied in larger and larger letters! When Helen needed additional care, she moved into Spring Arbor Assisted Living Residence of Fredericksburg where she spent her remaining four years. Her loving response to others, especially those who didn't seem to be getting much attention, and her gratitude for every little thing soon endeared her to the staff and many others especially her meal time table mates. She was eager to join in many of the activities and especially enjoyed the musical guests and the church group volunteers who led hymn singing and shared a message. That was good, but it wasn't going to Church which she missed most of all. She began to lose track of who, what and when, but she retained her kind loving ways and her gratitude. Over her life, she bloomed where she was planted. She spent her last year, the COVID19 year of quarantine in the memory care cottage where she was lovingly cared for and could move freely in her wheelchair until her positive Covid test restricted her to her room. Though not exhibiting symptoms, her health markedly declined. The recreation therapists facilitated FaceTime calls and in person spaced and masked weekly visits when possible. Her daughters will always remember her echoed "I love you" and the smiles and hand kisses on her 103rd birthday. Difficult, but equally memorable was the time at her bedside soon after, during her last days and hours. The family remains grateful to all the Spring Arbor staff, to Capital Care Hospice and the many others who have sent messages of condolence. Thanks as well to the Crowder Hite Crews staff for their comforting and personalized help and care. A funeral service will be conducted on Saturday March 27th at 2:00 P.M. in the South Hill United Methodist Church with interment to follow in Oakwood Cemetery. The family will receive friends on Friday evening from 6:00 until 7:30 in Crowder-Hite-Crews Funeral Home and Crematory. The family requests that any memorial donations be sent to South Hill UMC at 105 Franklin Street, South Hill, VA 23970 or to MARC. Online condolences may be sent through our website, www.crowderhitecrews.com. Crowder-Hite-Crews Funeral Home and Crematory is serving the Boswell family.
To publish a public condolence:
Complete the Name (your name),
Title (title your condolence message),
and Review (your condolence message).
Then click "Post Review" button to send (at bottom right).
About Us
At Crowder-Hite-Crews we've always been proud to say that we are large enough to serve and small enough to care.  When you choose us, we consider this a sacred trust between your family and ours. We offer a full range of funeral service, whether for a traditional funeral or cremation, and we are able to assist families worldwide. In February of 2004 we installed a crematorium to better serve our cremation families.  We now do all cremations in our facility, saving transport to another location for this service.  Please feel free to contact us if you have any questions about the cremation process.
Family owned and operated since 1972.
Situated on a 3-acre pastoral setting.
1st Place in Reader's Choice for Funeral Service (15 years running).
Staff members are active in many civic organizations in the area, including Lions, Rotary, Moose Lodge, Masons, Ruritan, and Chamber of Commerce.
Owners are former Presidents of the Virginia Funeral Directors Association and Southside Funeral Directors Association.
We always help you apply for Social Security and Veterans benefits!
We also help with completing life insurance claim forms.
Crowder-Hite-Crews Funeral Home & Crematory
PO Box 422
1504 N. Mecklenburg Ave.
South Hill, VA 23970
Local (434) 447-7171
Fax (434) 447-3212