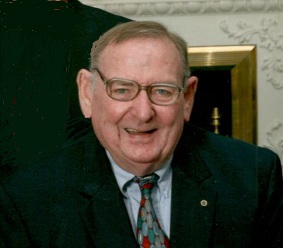 Carstairs Hendrick "Penny" Bracey
Obituary:
Mr. Carstairs Hendrick "Penny" Bracey, age 81, of South Hill, died November 22, 2020 in the Hundley
Center. He was a graduate of Park View High School and attended N.C. State University. He was the
former owner/operator of Bracey Jewelry, a U. S. Army veteran and member of American Legion Post
#79.
Those who knew Penny never had to wonder about his thoughts on a matter due to his enviable skills in
self-expression and sarcasm. When asked what he was up to Penny often replied with "I'm driving a
truck" generally followed by "What does it look like I'm doing?" He found ways to adapt to mobility
challenges such as attaching a cane and cup holder to a riding mower that he drove to the local hospital
to purchase cigarettes from the gift shop. Friends recall his sense of humor and were sometimes the
targets of pranks involving fake parking tickets or replacing the filling of a Twinkie® with a decidedly
inedible substance. Penny never met a piece of chocolate or a bowl of ice cream he did not like, and any
perceived gruff demeanor was merely a façade for genuine sweetness and generosity.
Penny enjoyed golf and was pleased his daughter Karen's birth was shared by Arnold Palmer's victory in
the 1962 Master's Tournament. He enjoyed University of Virginia athletics, woodworking and watching
"Matlock." His love of television was so great that when he passed, he was holding not just his wife's
hand, but the television remote as well.
Penny is survived by his wife of 60 years  Mildred Bagley "Millie" Bracey, daughter Karen Elizabeth
Bracey of Richmond, son Thomas Carstairs Bracey also of Richmond, twin brother Robert Burwell "Bob"
Bracey and wife Jackie of Summerfield, NC, granddaughter Parker Rose Bracey, and sister-in-law Sue
Cleaton Bracey of Lafayette, IN. He was predeceased by his parents Dr. Altamont Hart Bracey, Jr. and
Louisa Henrietta Williamson Bracey, brother Dr. Altamont H. Bracey III, and daughter-in-law Jennifer B.
Bracey.
In light of Covid 19, a private funeral service for family members only will be conducted Friday,
December 11, 2020  at All Saints Episcopal Church with interment at a later date in Oakwood Cemetery,
South Hill. Friends and family may stop by Crowder-Hite-Crews Funeral Home during normal business
hours (9:00 A. M. -  5:00 P.M.)  to sign Penny's register and obtain a memorial folder. The family
suggests memorial contributions be made to the National Multiple Sclerosis Society by contacting
nationalmssociety.org. Online condolences may be sent through our website,
www.crowderhitecrews.com.  Crowder-Hite-Crews Funeral Home and Crematory is serving the Bracey
family.
To publish a public condolence:
Complete the Name (your name),
Title (title your condolence message),
and Review (your condolence message).
Then click "Post Review" button to send (at bottom right).
Crowder-Hite-Crews Funeral Home & Crematory
PO Box 422
1504 N. Mecklenburg Ave.
South Hill, VA 23970
Local (434) 447-7171
Fax (434) 447-3212