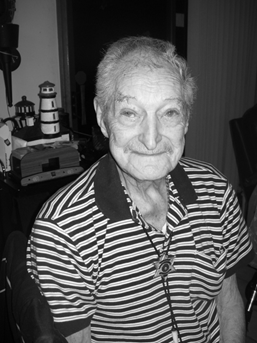 Mr. Lloyd Francis "Blackie" Johnson
Obituary:
Lloyd F. "Blackie" Johnson, age 96, entered into rest on September 19, 2021 at his
Buckhead Estate residence in Virginia on Lake Gaston with Betty Bianconi from
New York. Having lived at 310 Church Lane Road, Reading, PA. He was born in the
coal region in Leighton PA. the son of the late Ella (Sensinger) and Francis
Johnson. He was preceeded in death by his wife of 47 years, Betty (Stivers)
Johnson and daughters Donna Johnson and Carol Bush. Lloyd attended Reading High School and served in the U.S Navy from 1942 to
1946. He was an Aviation Machinist Mate in the South Pacific aboard the Aircraft
Carrier U.S.S. San Jacinto, having earned 7 Medals and 7 Ribbons (one with 7
Stars). He had been retired from Bell of PA since 1978 after 31 years of service as a
Lineman, Installer, Repairman and P.B.X. Installer. He was a PA State and Berks
County Constable for 19 years and was a past president for both associations. He
was the first Constable in Berks County to wear a full uniform. Lloyd was also a
past Auxiliary Police Officer in Exeter, PA., Captain of Exeter School Police and
Truant Officer for the Exeter School system. Lloyd was a lifetime member of the
Telephone Pioneers, Bell Athletic Association and both Constable Associations.
He is survived by his brother and sister-in-law, William and Trina Johnson. His
nieces and their husbands, Wendy and Mark Bahmueller with son Eric; Denise and
David Schlorff with two daughters, Erin and Brittany. Lloyd is also survived by his
two grandchildren, Bernae Haas and her husband Joseph with two children Ryan
and Kaitlyn; and Mindy Ging. He is also survived by his son-in-law, Edward Bush.
Services will be held privately. "Thank you all. Be happy, not sad, because I lived a
good life among you all.", Lloyd Johnson.
Crowder-Hite-Crews Funeral Home and Crematory is serving the Johnson Family.
To publish a public condolence:
Complete the Name (your name),
Title (title your condolence message),
and Review (your condolence message).
Then click "Post Review" button to send (at bottom right).
Crowder-Hite-Crews Funeral Home & Crematory
PO Box 422
1504 N. Mecklenburg Ave.
South Hill, VA 23970
Local (434) 447-7171
Fax (434) 447-3212