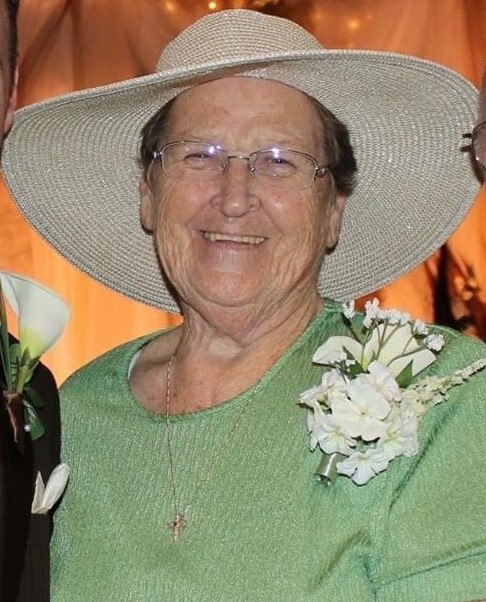 Obituary:
Mrs. Doris Butler Peters, age 90, of South Hill, VA, died Thursday, August 17, 2023 in the Petersburg Home for Ladies. She was a homemaker and the widow of Virgil Lee Peters.
Mom was born as a granddaughter to homesteaders in rural Blue Rapids, Kansas, in the same house as her Mother. Raised on a farm with four brothers and two sisters. She played basketball, babysat, and helped take care of neighbors and family in her youth.
Married Virgil, a young man fresh out of the navy, on December 7, 1952 in Marysville Kansas. She followed Dad as the Union Pacific Railroad used him in Marysville, KS, Omaha, Nebraska, Ogden, Utah. Mama made sure that their three children and husband always had a comfortable and safe home to live in. When Daddy accepted a job with the Panama Canal Company, she even got on a ship bound for a foreign land. This brave woman had only known ponds, creeks and cattle troughs, was now swaying to the waves for four days on a ship. While living in the Canal Zone, Republic of Panama, she took on many roles. Each with a destination of teaching, loving, and caring for children and her family. She was a den mother with the Cub Scouts, always active in church activities, held positions with The Easter Star, Rainbow Girls, and assisted with Dad's masonic lodge. Mama was a great cook. She cooked large dinners for Masons, the Rainbow Girls, church activities, which included weeklong camps at Santa Clara Beach, Panama.
Upon retiring in 1982 from Panama Canal Zone, they returned to the family farm in Kansas. There she became active in the community, church, and the local Moose Lodge. Longing to be close to her children, they moved to South Hill, Virginia. There she maintained her church activities, community services, and became one of the founding members of "The Bread Box". This is an organization that accepts donations and supplies food to many families throughout the community. As she aged, and the Bread Box grew, she stepped down to pursue a slower pace of community service.
Mama was always in love with her family and never met a child she didn't like. Taking her places took so much time because she had to stop and talk to every child she could. She was true servant to the Lord, her family, her church, and the community. It was an honor to be her children, her family, and a friend.
Mrs. Peters is survived by her daughter, Susan Carroll and husband Rick of South Hill, VA; two sons, Stan Peters and wife Laura of Pensacola, FL and Scott Peters and wife Terrie of Chester, VA, two brothers; Charles O. Butler, Jr. and wife Sandi of Englewood, CO. and Steve J, Butler and wife Joy of Marysville, KS. eight grandchildren, eleven great grandchildren, a brother-in-law Eldred Smith of Home, KS., a special caregiver Sandy Hall, and her former daughter-in-law and friend, Lisa Peters. She was predeceased by two sisters Lilly Graham and Rita Smith and two brothers and a sister-in-law Merlin Butler and wife Barb and David Butler.
A funeral service will be conducted Thursday, August 24, 2023 at 5:00 P.M. in Crowder-Hite-Crews Funeral Home, with a visitation starting at 4:00 P.M. until the hour of service. The family request memorial contributions to be made to the "Bread Box", P.O. Box 213 South Hill, VA 23970.
A graveside funeral service will be conducted on Wednesday, August 30, 2023 at 10:30 A.M. in Marysville City Cemetery, 1410 North 16th St, Marysville, Kansas 66508. Kinsley Funeral Home located at 1006 Broadway St, Marysville, Kansas 66508 is in charge of the Kansas arrangements, where Mrs. Peters will lie in state after Monday, August 28, 2023 until the day of service. Crowder-Hite-Crews Funeral Home, South Hill, VA and Kinsley Funeral Home in Marysville, KS are serving the Peters family.
To publish a public condolence:
Complete the Name (your name),
Title (title your condolence message),
and Review (your condolence message).
Then click "Post Review" button to send (at bottom right).
Crowder-Hite-Crews Funeral Home & Crematory
PO Box 422
1504 N. Mecklenburg Ave.
South Hill, VA 23970
Local (434) 447-7171
Fax (434) 447-3212